The Festival of Sail Labor Day San Diego Bay




Every Labor Day weekend The Maritime Museum of San Diego hosts The Festival of Sail at the North Embarcadero on San Diego Bay. This year had over twenty tall ships and a hundred plus vendor stalls. Ships sailed in from many ports to add to the sailing ships that are permanently birthed here. The most famous is of course, The Star of India, the three masted windjammer that has just turned 150 years old, the oldest working ship on the U.S. west coast.
The five dollar entry fee gave access to the pier, floating barge extensions to the pier and the stalls. Live music of various kinds played on a central stage. Harbor tours were offered on some of the ships at additional ticket price, paid on boarding. Generally, it was a good day's expedition and a family friendly atmosphere. The crowds on Sunday, when I went, weren't too heavy. I assume it was more crowded on Monday. Tourists were crowded all along the Embarcadero, from the convention center, though Seaport Village, the USS Midway Museum and the Sand Sculpting Competition being held on B Street Pier. There was a lot of foot traffic and the construction for the redevelopment of the area made it that much more hectic. The Festival, being at the north end of all that, put it out of the way and, perhaps, less well attended because of it.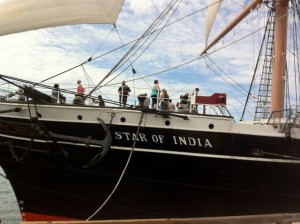 These were the best pictures of the day. There was a lesson learned for me, which was don't rely on an iPhone for photography. The limitations of its camera really showed themselves. Using a DSLR would have given much better results. I should have taken my Nikon.