Titanic Exhibition At San Diego Natural History Museum A Bit Short On Tonnage




The "Titanic: The Artifact Exhibit" has been at The Natural History Museum in Balboa Park in San Diego for most of the year and is closing this weekend.
It is one of eight exhibitions posted throughout the United Stated (with one additional in Bangkok Thailand).  Operated by RMS Titanic Inc., which owns the rights to the wreck and which did the work to recover the artifacts.  This is a subsidiary of Premier Exhibitions Inc., known for other such exhibition enterprises as King Tut and that one where plastinated cadavers are displayed in poses with various parts, such as skin, missing or just cut in half.  I just had to explain that all in one run-on sentence.
I had been meaning to visit this exhibit for some time.  First of all it was more expensive than a day aboard the Queen Mary.  That is not surprising I suppose because retrieving all of the fifty five hundred items recovered could not have been cheap or easy.   That means there were not a lot of artifacts available here in San Diego, probably around six hundred smallish items. And the staff had the air of temps contemplating the end of their placement and where to get a job next.  Of course, no photography inside.
It was interesting to see the various items of leather, brass and other materials that survived nearly a century in the deep.  Some of these things would ultimately corrode away had they not been fished up.  The exhibit was extended by the addition of staged recreations of cabins and the massive facades of a row of boilers, which did tie it together somewhat.  Personally, I think it would have been more interesting if there had been more information about the actual expedition that recovered the artifacts.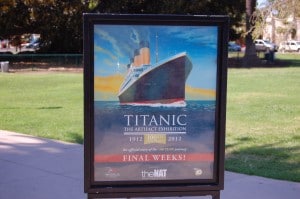 One final fun thing that provided as an interactive element is the ticket/boarding pass they give you is is supposed to be the ticket of an actual passenger.  Mine was ticket# 350033, A young Swedish gentleman traveling alone to Iowa, third class.  On reading it I felt sure he hadn't a chance, but toward the end of the exhibit there is a role of passengers and their fates, I was pleasantly surprised to find he did survive and lived a long and prosperous life.